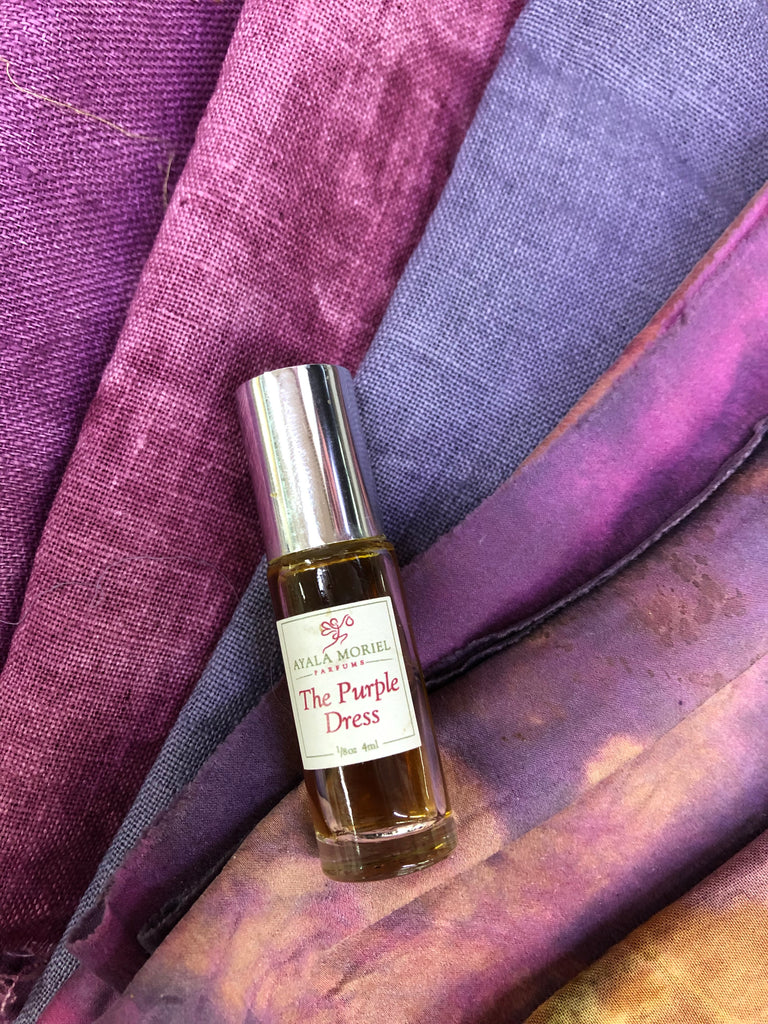 This Saturday we explored the concept of synesthesia through visual pairings of naturally dyed (logwood and cochineal) and ecoprinted fabrics in all shades of purple; plus the scent and sounds of The Purple Dress perfume and the chromatic song which inspired it..

In the photo is The Purple Dress perfume and a stunning collection of purples - printed and dyed fabrics by Hasia Naveh:
Purple scabiosa flowers, which produce the beautiful greens I've shown you in yesterday's post, produce purple when used to make botanical inks, or simply draw with the petals. Dyestuff used to achieve purple shades are cochineal (ranging from magenta and fuchsia to a lavender purple, depending on how the fabric is treated and the cochineal manipulated). Logwood is used to make darker and cooler purples. 
The synthetic connection in The Purple Dress is of both sounds, colours and scents. The song that inspired its name is very chromatic and nuanced, which creates a mystery and also some ambiguously melancholic mood. I felt inspired to centre the perfume around Champaca extracts (concrete, absolute and CO2), which to me is a very "purple" scent. If you've never smelled champaca, it would be hard to understand this. Maybe it's the inherent combination of star anise, black tea and orange-blossom like notes that make me see and feel very luxurious purple colours, more specific, glorious fabric, rich in both texture and colour, with depth and complexity. What I envision when smelling Champaca is very similar to what you see in the photo with all of Hasi's fabrics.