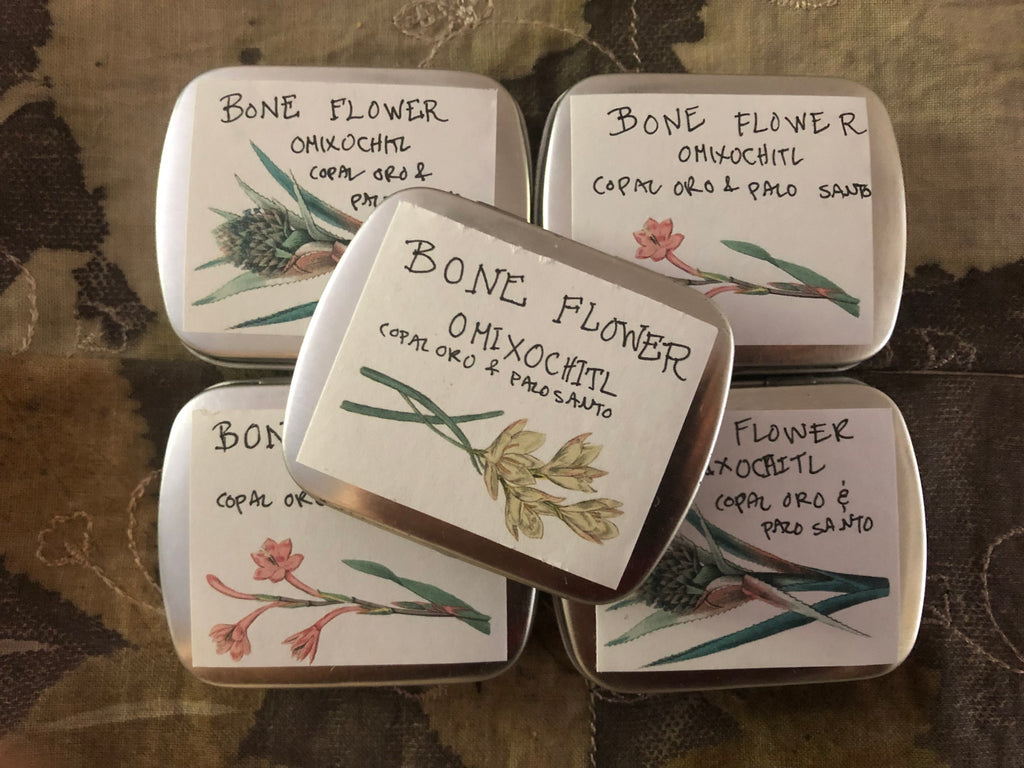 There are some thees that are so elusive and intriguing that a perfumer can go back to them time and again, and never get bored. Tuberose is such theme, which I've explored times and again, first in White Potion (softness and creamy powdery aspects), Schizm (heady, earthy and mossy facets), and Treazon (intense, narcotic, and controversial). 
There are many qualities of tuberose, and I most often work with what I have on hand a paste-like absolute that has a softness, and an almost green-violetty tonality. Occasionally, I come across an exceptional distillation that inspires a different approach. And this was what inspired me to create Bone Flower solid perfume. I've used tuberose concrete, a material I've never come across before, and which brings the best of all worlds, perhaps because it also contains the very rich-smelling floral wax. It showcases tuberose's green, dewy, cut-flower aspects, its creaminess as well as the heady and intoxicating richness of the intensifying flower as the day progresses. 
Guided by the philosophy that what grows together goes together, an especially creamy and intense batch of tuberose  was paired with other botanicals indigenous to Mexico and Central America - the region of where tuberose originates: instead of a neutral scented base oil, I have used an in-home infusion of copal oro resin, and to round off the tuberose I've also added palo santo and vanilla absolute. This potentially cloying bouquet is balanced by the freshness piñon pine, and a bitter-herbaceous white sage. 
Omixochitl, the Aztec name for tuberose (Agava amica), means "Bone Flower", alluding to its white colour and nocturnal behaviour, and use in funeral rites. And this is how I decided to name this perfume. Each rectangular tin contains approximately 10 grams of long lasting and concentrated tuberose solid perfume.
Enjoy this fall along with Ancestral Feast copal incense cones or sticks.