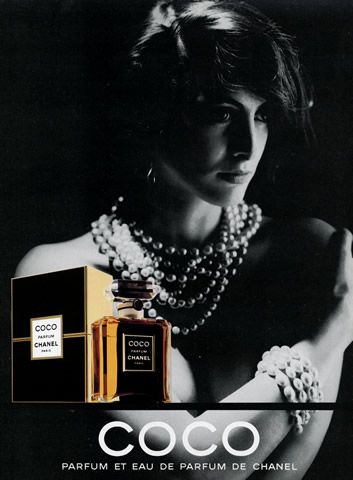 Everything about Coco the fragrance is regal and at the same time artificial. It brings me back to a long gone era when people would dress up to go out and be seen (and smelled) in public, and would take an extra effort going to a grand event, be it the opera or the cinema (remember those?). A whiff of Coco eau de toilette throws me immediately to a concert hall at the Tel Aviv Museum of Art with my grandmother. Back in the 80s and 90s when Coco was in vogue and so many ladies would wear it on a night out, clad with big chunky jewellery, bling leather purses, and shoulder pads, of course. 
The review here is for the parfum, which I have smelled a couple of decades ago and experienced as very almondy, and it did not string that chord of listening to chamber music in my youth; so I have never quite fallen for it. The eau de toilette never was quite "me", despite this fond place I had for it bringing back memories of quality time spent with Ms. Ruth Moriel in Tel Aviv. 
So here I am in 2022, 38 years after this perfume came out, re-evaluating my relationship with it as part of my research of the Opulent fragrance family for my students. I have scoured the web (because, like concert-going, perfume shopping in this day and age is prohibited, unless one is bio-branded by a vaccine); plus Coco is no longer is available widely, being replaced by its many flankers and imitators). I dove head first into a vintage flacon that arrived from Russia in a weathered box, yet the flacon inside was sealed and in pristine condition, inviting me to viciously peel away its skin-like seal and cut the black cotton string. The golden juice within the cut-glass bottle smells like a jewel, and with ease that greatly surprised me, I was tempted to dab and re-apply as I write and marvel at it. 
What strikes me at first is its structure, and how despite its singular, unique elements, it is after all a classic Opulent-Spicy perfume, with the mellis accord of patchouli-eugenol lubricated by balsams, fleshed-out by florals, and uplifted by a generous dose of citrus, of course; and how it echoes the magnificent Opium which preceded it by seven years. Both have that mandarin opening, bright and rich orange blossom to match it, sheer cool-warm spiciness, and finally, a pronounced opoponax resin that is so addictive, plum-like and rich. 
Coco stands alone, somewhat snobby in the best Chanel tradition, but with a lot more presence and boldness than any of the other ones from the same house. It is Opulent indeed, in a way that is almost out of character for the house that prides itself with austere, orris and aldehyde-clad creations. It is definitely a Chanel with shoulder pads, at the opera or a gala concert, clapping hands quite enthusiastically but making friends only with few, who would mostly keep her company while she smokes. 
And the smoke is, indeed, the part that makes Coco stand out. Cascarilla, a Caribbean bush whose bark is used to flavour cigars, give it a peculiar note that could be either charming or off-putting. Either way it is intriguing. But I will let you decide. It alludes to tobacco and leather, and creates interest. Ditto with the angelica note - this one is not green, but rather smoky and musky, adding another element of surprise. Because otherwise, it is a rather conformist Opulent-Spicy, just equipped with a cigarette. 
Every time I dive back into my Coco flacon, I come back with another impression. At one time I'm noticing a lot of linalool and tropical floral notes, reminiscent of suntan lotion — but that's just the surface, and won't last long enough to make Coco a Floramber (although some may be tempted to call it so, or even call it a "Spicy Floral", which is in my opinion a misunderstanding of the genre - Opulents always have copious amounts of florals, but that does not make them a floral perfume). This aspect of Coco implies softness, femininity, fun… This is just a mask though for what comes next. Or perhaps just a sign of an unfocused composition. 
Another dab may bring to the fore its intense tuberose-orange blossom notes, bold and artificial in the manners of the 80s (Poison and Giorgio spring to mind, the former even more so because of the prominent tuberose-opoponax accord). It is saved from being vulgar by tonka bean, which creates a soft-focus effect that also helps pull all the elements together, as well as mellow woody notes of sandalwood and vetiver, which give creaminess and depth. Which makes me finally understand the connection between the original and its Noir flanker - which is a sort of a Fruitchouli, dominated by vetiver and jasmine and dark fruits. Both version have that fruity aspect, by the way, of stewed and spiced plums or poached pears in a spicy wine. 
Yet somehow, despite all these different directions pulling my attention, Coco manages to stay balanced and beautiful, and somehow this array of seeminglyy mismatched notes maintains tension and presence all the way to the drydown. It is not linear per se, but in each phase, the same melange of both classic and quirky notes emerge, for another round of card games.
Coco may be a bit indecisive, but that is only because there are so many beautiful things to explore. And that's precisely the character of Coco parfum — contradictory, over-indulgent, a loud fragrance that commands respect even if it could have been just as easily been ridiculed. 
Top notes: Frangipanni, Mimosa, Mandarin, Coriander,

Heart notes: Orange Blossom, Rose, Jasmine, Cascarilla Bark, Allspice, Tuberose, Honey

Base notes: Opoponax, Angelica, Patchouli, Vetiver, Sandalwood, Vanilla, Benzoin, Musk, Civet