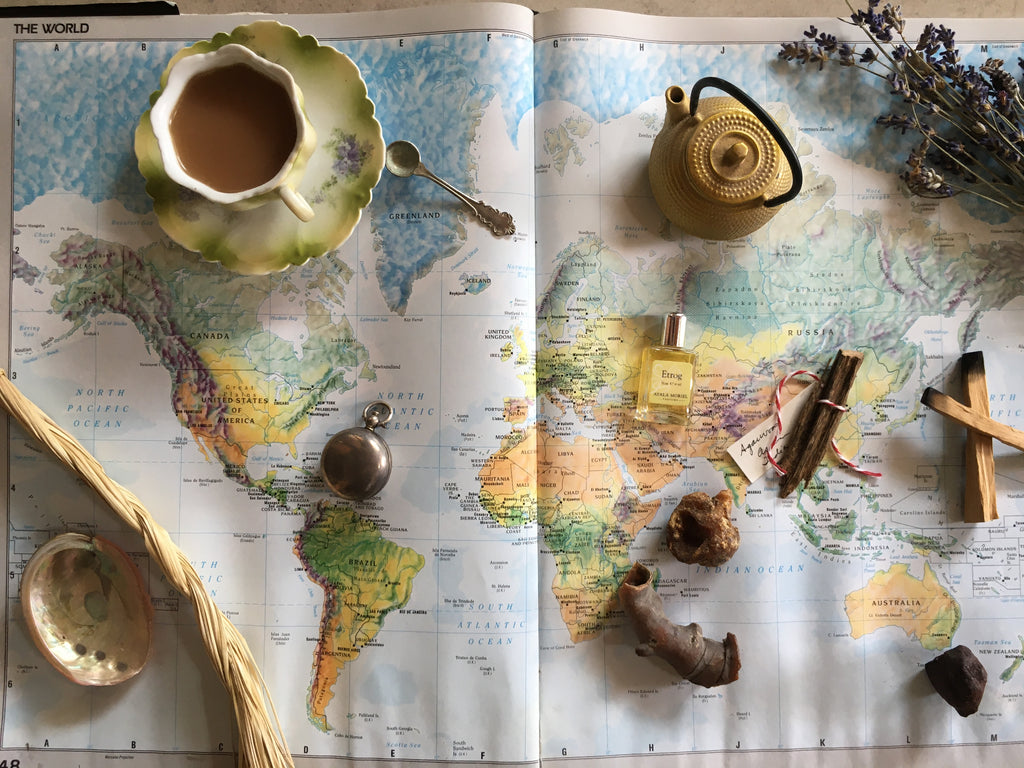 Celebrating & Appreciating Earth - Commitment to Sustainability, Diversity & Social Justice
Hello and Happy Earth Day!
 
Ayala Moriel Parfums Celebrates 20 Years of Perfumery & Incense Making this year - and nothing means more to me than making this business as sustainable as possible!

Last month we officially kicked off the celebrations by inviting you to join our fundraiser for the Mediterranean oil spill cleanup. And I'm thrilled to be the bearer of good news: 
The first one is that the beaches are almost clean! 
The second is that in March alone, you helped me fundraise almost $1400 that are donated to two organizations that deliver solutions to the tragedy of bitumen cleanup: Zalul/Mediterreanean Sea People and EcoOcean.

Thanks to an unprecedented volunteer drive that relentlessly cleaned the beaches all along Israel, in what was the largest ecological disaster yet - I'm happy to report that now the beaches are clean enough to enjoy this summer, both to sunbathe on the almost tar-free sand, as well as swim without having an oily film cling to one's skin and choke on toxic fumes. However, the reefs and underwater rocks still need professional and volunteer divers to clear away some bitumen that sank and stuck to rocks. So our work here is not done yet. 

These two organizations we're donating to, have not only actively and effectively mobilized volunteers to clean the beaches, and continue to lead the underwater cleanup - they are also demanding to develop legislation to protect from future oil spills, which is of utmost importance. Therefore, I will continue to donate to  Zalul/Mediterreanean Sea People and EcoOcean this year and beyond, as much as possible. And of course, by choosing my products you are also a partner in these efforts to make the oceans cleaner. 
 
Additionally, I encourage you to donate directly to similar organizations you believe in that protest land, sea and freshwater where you live. And take steps, both big and small, to make life on earth better for all the coming generations.

Here are just some of the things we do at Ayala Moriel Parfums to make the planet more sustainable and diverse, keeping in mind alway social justice, which is an inseparable issue of climate change: 

- Our studio is powered by renewable resource: The Sun.
- We use the best quality, natural and toxin free materials for our products.
- We source as much as possible and available from fair-trade suppliers, organic growers and sustainable crops. 
- We reduce our waste as much possible, in both the manufacturing process and packaging. For instance: bottles are reusable (which is why we haven't used crimped bottles); outer packaging for the bottles is also reusable or made from sustainable resources (i.e.: burlap pouches, and handmade paper made from local paper mulberry by a local paper artisan). We continuously strive to better our packaging to fit our philosophy of taking care of the Earth and reducing waste and unnecessary consumption as much as possible. 
- We use shipping materials take as little space as possible (which ultimately cuts on fuel in shipping), and for orders that require boxes, we are reusing carton boxes and packing paper (in fact, we're still reusing wrapping paper from our big move from Canada to Israel). 
- We go through great lengths to provide you with products that are of high quality, and that can be cherished for a long time.  
- We never pressure anyone to buy more than they need. 
- We grow some of our own plants and ethically forage some plants to make our own extracts. 
- We work and live within walking distance to avoid unnecessary fossil burning.
- Reduce plastic to a minimum in all of our packaging. 

Wherever you are - find your way to make a positive imprint on earth, making your community more sustainable, cleaner, more lively and diverse. Be it eating and shopping local, planting trees each year, or making a commitment to protecting a certain habitat. And wherever you go, leave it in a better shape than you've found it.