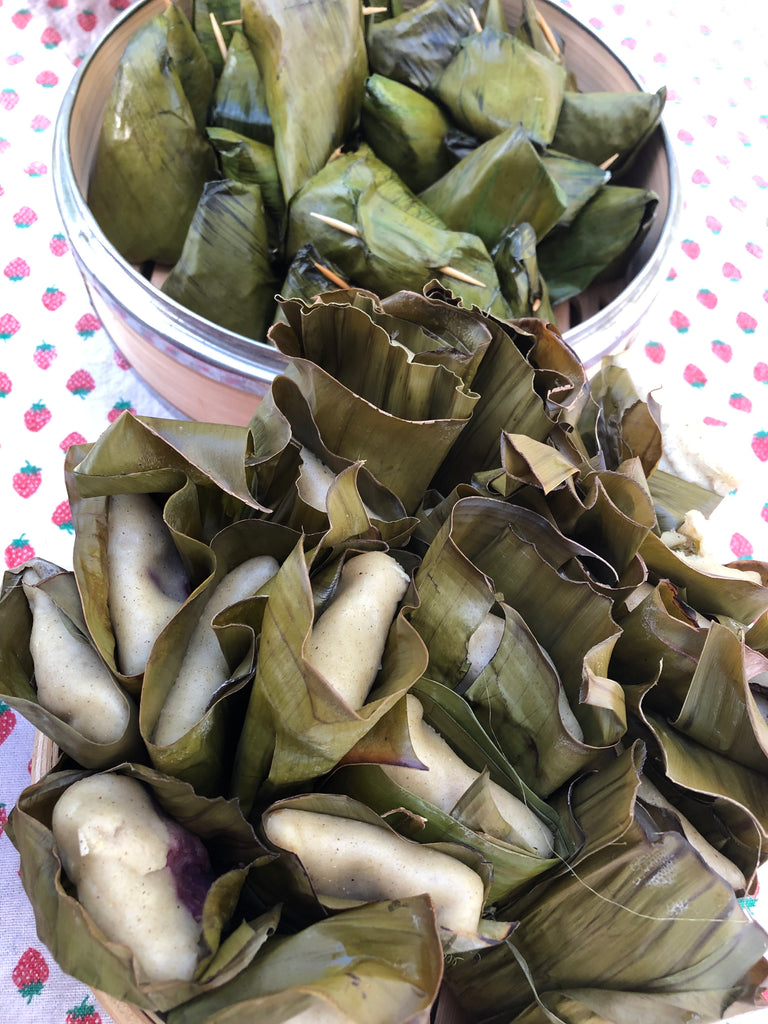 Tamales are an ancient Mesoamerican steamed dumplings, made from masa harina wrapped in corn husks or banana leaves, and usually stuffed with either meat, beans or vegetables. It is not only an easy to carry provision, but also has significant ritual meaning. It was served as offering to the gods, and copal incense shaped as tamales were placed in the mouth of the dead before burying, and is to this day served as an offering to the ancestors on Dia de Los Muertos in Mexico.  
Tamales can be stuffed with anything really, but here I bring you a fall favourite: tamales with sweet potato and chestnut filling. They have a savoury and sweet taste and are a treat all around. They can be steamed in both corn husks and banana leaves (although each wrapper requires a different kind of prep and a slightly different wrapping technique). 
For the masa, I'm giving you my recipe for one that is based on store-bought dried up masa harina. It's a very similar dough to that used for making corn tortillas, only a bit softer and with the addition of baking powder and more oil or fat (your choice which kind). 
The filling can be made with either orange or purple yams, with an equally delightful flavour. 
Masa:
2 cups masa harina (specialty corn flour that was processed with lime)
1-1/2 to 2 cups warm water
1/2 tsp baking powder
1 tsp salt
2-4 Tbs grapeseed oil, sunflower oil or another nutritious and neutral tasting oil; or butter if you wish
- Measure the masa harina, salt and baking powder together, and mix with a fork
- Gradually add 1-1/2 cups of water, not all at once, and the oil, and knead with hands. Add up to another 1/2 cup if needed. The dough should be soft but not sticky (if too sticky add more masa harina)
- Divide the dough into 20 even sized balls and set aside, covered with a towel to prevent drying. If you're using corn husks, you may need to make more smaller balls. 
Filling:
2 medium sized yams (or 4 small sized), either purple or orange 
1/2 cup pre-boiled and shelled chestnuts (I used the entire content of a vacuum package) 
1 medium purple or sweet onion, chopped
1/4 tsp chipotle chilli pepper, powdered, or chipotle pepper paste
1/4 tsp cumin
1/2 tsp cocoa powder
a pinch of cinnamon
Salt to taste
Oil for sautéing 
- Wash and steam the yams until soft. I like to keep the peel on (that's where all the vitamins are, and it adds a nice texture and flavour)
- Sauté the onions, stirring occasionally, until caramelized and are golden-brown and significantly shrank in size but not burnt
- Chop the chestnuts
- Cut the steamed yams into cubes and mix with the spices, onions, and chestnuts
Now it's time to start forming the tamales!
If your'e using corn husks, blanch them in boiling water to soften them. Flatten the masa ball into a small flat disk on the palm of you rhand, place a teaspoon or so of filling, close with your fist and place inside the corn husk, folding the bottom to close it. 
If you're using banana leaves, run the leaf briefly over an open flame to shrivel it, wipe clean with a wet cloth, then remove the leave's spine and cut each side into appropriate size pieces. Best way to go about that is try one for size, make sure it is wide enough to encase a tamale, and then use that as a guide for cutting all the other parts. 
For forming the tamales, place the leaf on a tortilla press, place a masa ball on top, layer it overtop with a plastic sheet (to prevent sticking to the top of the press), then place a spoonful of filling, and wrap the tamale from all sides, using the banana leaf to shape it and fold and then close it in. 
In both cases, the tamales should arranged in a steam, with the open side up, a. d steamed for about an hour. To make sure there is always enough water at the bottom of the pot, and prevent scorching, place a couple of coins in the bottom of the pot. If you don't hear it rattling, it means the water run out and you need to add more. 
Serve hot or room temperature, these are delicious on their own but even better with a spicy salsa to balance the sweetness. Or with a homemade molé amarillo.