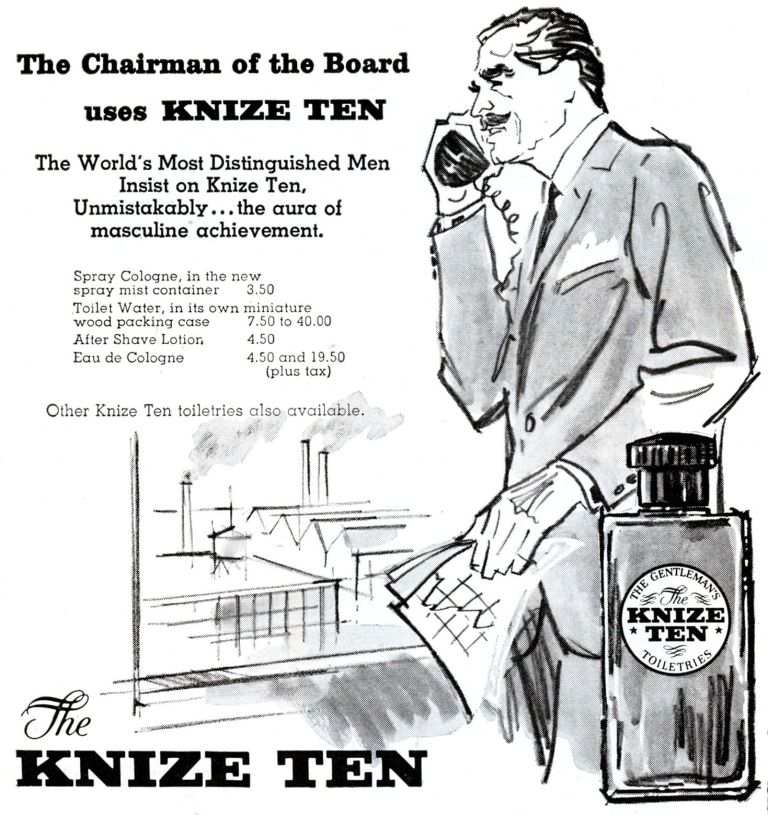 Knize Ten was designed by Francois Coty and Vincent Roubert in 1920, and is arguably one of the first leathery fragrances. It was commissioned by Joseph Knize, a Viennese bespoke tailor. And before we go on, a word on pronunciation: This name is not pronounced like "knees" or "knife" or any other Anglo-centric interpretation. It is pronounced: K-NEE-sche. Now we can move on to talking about the scent itself... 
The perfumers have most likely used a then-new leather base from a fragrance firm when the then-novel molecule isobutyl quinoline was invented, and incorporated into the Cuir de Russie base. 
What I first get is the impression of a dry, cracked leather chair. There is also a clean, soapy accord, the dry and green-leafy aspects of Eau de Cologne. Knize Ten opens bright and clean, with mandarin, bitter orange and bergamot. It has a very elegant but also a bit severe, reminds me of a moustached man meticulously dressed only to armour himself as deep within he's a gentle and soft. And indeed, as it warms up on the skin, it softens to reveal  floral sides, namely violet and carnation notes that lurk afterwards.  
Keeping it within the historical context, it seems to have more than a tad in common with Tabac Blond (1919), complete with the parched dryness of isobutyl quinoline paired with carnation (also probably a floral base). 
The isobutyl quionoline is truly the star of the show here, and being surrounded by quite the herb-garden (geranium, rosemary, petitgrain) and diffuse sweet gums and balsams (vanilla and labdanum-based amber), oakmoss, patchouli, sandalwood and castoreum, give it a more natural feel. I may be imagining the tobacco note there. And a hint of spicy cloves or carnation. 

As it develops on the skin, it becomes more and more balsamic-resinous. The birch tar, as it would in true life, becomes more woody and resinous, almost incense-like. And at the very end bit awaits another round of dryness, from cedarmoss. 
Top notes: Bitter Orange, Bergamot, Rosemary, Lemon
Heart notes: Petitgrain, Orange Blossom, Geranium, Cloves, Carnation, Orris
Base notes: Labdanum, Vanilla, Tobacco, Cedarmoss, Ambergris, Birch Tar, Isobutyl quionoline