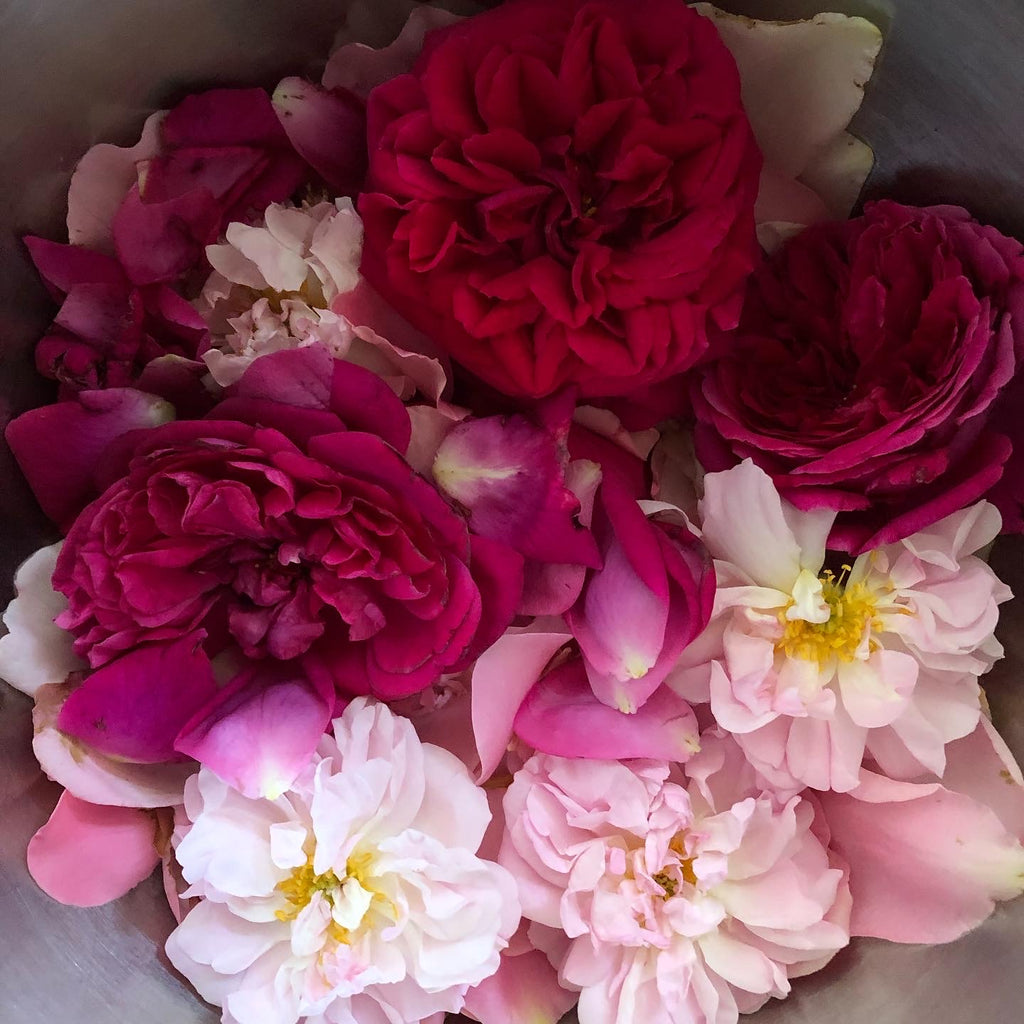 Happy Mother's Day!

Making rose petal jam has been a dream of mine for as long as I can remember. My first taste of that was at my friend Zohar's kitchen. Her maternal grandmother is Turkish, and would make it every year. The texture was syrupy, with wilted, dusty-pink petals floating around. The aroma pure rose. I waited for that recipe for many years but even if I had it I wouldn't be able to make it, having no rose garden to harvest from. 

This year is a Sabbatical year, and I haven't pruned any of my roses. And they are growing especially wild and abundant. Every year I try making something else from them, rose beads, rose enfleurage, etc. This year it was really time I try to jam them at long last. I tried two different recipes, first one required a small amount of roses (about 60g, which is roughly one cup), and no curing time. I used dark, red and fragrant roses from my mom's Chrysler Imperial bush and some of my Oklahoma roses. Both are very similar - velvety, voluptuous red and darkly fragrant. The technique called for adding the lemon juice after cooking the roses in the water and softening the petals a bit. This takes away the colour. But once lemon juice is added, the colour returns. The recipe asked for commercial pectin, but I used a bag of quince seeds instead, with stunning results and very nice, thick syrupy consistency. The most spectacular part about that jam is the colour of course! 
The petals remain very chewy though, and I may actually opt for filleting them out next time when I use these roses, and make a rose petal syrup instead. This would be so lovely on a Malabi desert, panna cotta or vanilla ice cream. 

The second recipe I tried requires curing the roses for 48hrs covered in sugar. I used the more delicately petalled roses I grow: Kazalnik, William Shakespeare, and even a couple of Golden Celebration (these have a gorgeous lemony aroma). Again I used my own pectin (this time from Volkamer lemon seeds). The petals were still chewy. The aroma is lighter than the previous roses. I didn't expect to have such a huge difference because of the rose varieties used. And only wish I had more of the Kazanlik (which is the Rosa damascene used for perfume) to make a jam purely out of them. This was certainly fun! And out of the whole 4 jars I made, one is already gone. So I better make more while they're still in season. 
Recipe:
2 cups rose petals (around 60g), pesticide-free, organically grown or wildcrafted See note for preparation of the petals * 
1 1/2 cup water
2  cups sugar 
juice from half a lemon (about 3 Tbs) 
Reusable tea bag filled with pectin source (i.e.: quince seeds, apple cores or citrus fruit seeds)
* All rose petals are technically edible, but the varieties that are fragrant and with delicate petals are the most suitable for this purpose. If using thick-petalled roses such as hybrid tea roses, you may want to remove the white base of each petal. Also, be sure to allow all the flower's previous inhabitants to crawl out before you cook them up! I like to leave mine on a sieve for a couple of hours before I remove the petals from the calyx and begin jamming. 
Process: 
- Cover the petals with water
- Simmer until the rose petals and pectin tea-bag become soft and seem to lose their colour
- Add the sugar and simmer until completely dissolved
- Add the lemon juice and continue cooking, on low heat, until it reaches the right consistency. I like to test mine in the same way I test marmalade - place ceramic spoons or little plates in the freezer, place a few drops of jam on them and return to the freezer. If the jam crinkles when I pass my finger through it after a few minutes, then it is ready
- Transfer into pre-sterilized jars, seal and cool off
These are delicious as it is, eaten as an accompaniment to tea, or on hot scones or biscuits with clotted cream or sour cream. And of course, amazing on panna cotta or vanilla gelato, and as a drizzle of Pavlova and many other fancy desserts as your imagination desires.