The Glorious L'Origan (1905)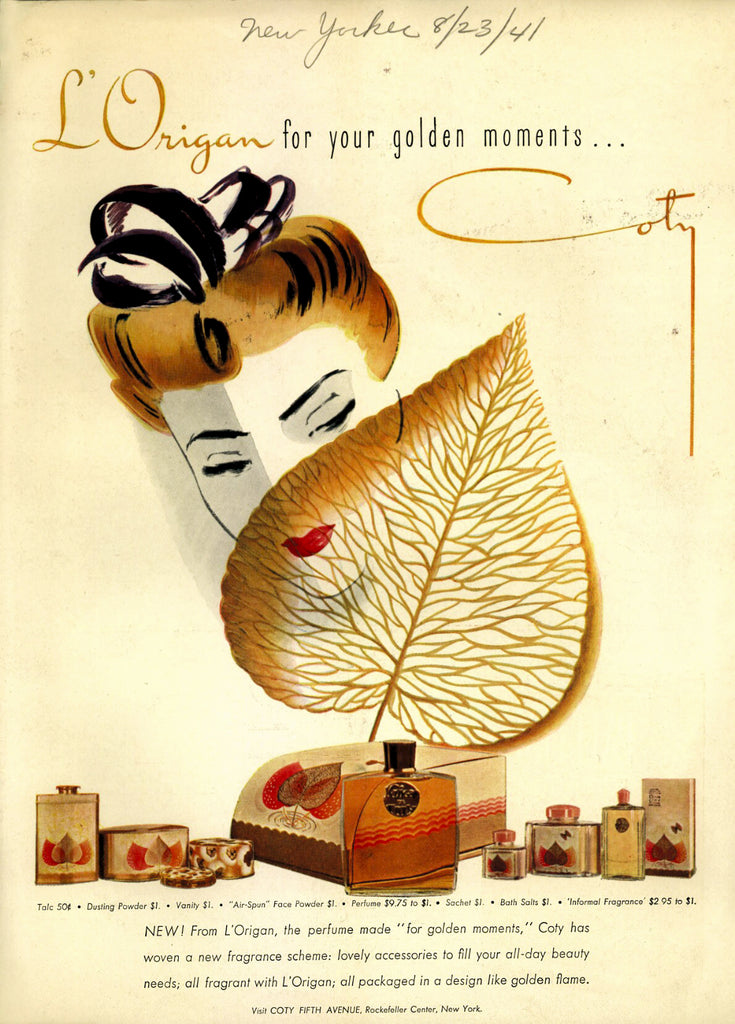 Many years ago, I've found a coffrett of four vintage Coty eaux de toilette, and among them was l'Origan. I didn't know the significance of this perfume till now, while researching the history of Opulent and Floramber perfumes for my perfumery courses. And so it happens that for a few days in a row, I'm immersed in this perfume and enjoying its softness and mystery. 
Because Coty as a brand went so far from its original vision after its founder's death, it is very hard to find its original fragrances and truly understand the greatness of Coty as a perfumer. His marketing genius is evident, because bottles and visuals are easier to preserve than scents. And his impact on the modern perfume world is unquestionable. But it was not until now that I understood the depth and breadth of his genius.
To understand this, we must begin with the choice of raw materials. At the turn of the century, floral absolutes became possible, along with aromatic synthetics besides coumarin and vanillin. Raw material suppliers began experimenting with floral bases, leveraging the precise tonalities of synthetics to accentuate the aspects they desired to showcase in floral absolutes, thus creating many imaginative floral bases. I've been fortunate enough to smell some of such bases in person. They have depth and complexity that is impressive and very pleasing to the nose, especially when compared with the sickening fragrance oils that are now offered by the truckloads. Yet back in the day, perfume houses perceived them as being too strong and artificial.
Coty was a self-taught perfumer, and as such he was more open minded to working with those new, suspicious materials that the established fragrance houses have rejected. He formed business relationship with Chiris, a raw materials manufacturer in Grasse, who happily supplied him with absolutes and floral bases, and Coty was daring to use them early on, with La Rose Jacqueminot, and shortly after in l'Origan.
The choice of name is puzzling to me, as my understanding it means oregano. And there is no such note in the perfume as far as I can detect. If you know anything about it please do comment. 
L'Origan opens with herbaceous-anisic notes of tarragon, underlined with carnation that has been dusted lightly with powdered sugar, violets and roses. There is also an orange-blossom sweetness that is both juicy and candied, but does not burst too loudly, toned down by both powder and sweet-spicy notes. 
L'Origan smells overall a little aromatic but also candy-sweet, along the lines of l'Heure Bleue, but without the melancholy touch. However, it does sadden me to speak of it in these comparative terms, when clearly l'Origan preceded l'Heure Bleue by seven years. It seems to me that l'Origan was, unknowingly, the sketch for l'Heure Bleue, and like no less than two other Coty creations - it has burst the door open for an entirely dynasty of fragrances: Florambers, AKAFloral Ambery, or soft florals, up till recently titled "Florientals" or "Semi-Orientals". 
It may or may not be the first perfume to be intentionally treacled down by its creator, that is, to be used in functional fragrances: Coty used l'Origan to scent his famous face powder, "Airspun", which is in production to this day. I can't decide what it's more, creepy or exciting, that the same face powder is being used for around a hundred years. Another brand that is famous for its perfumed makeup is Guerlain (their powders, mascaras, lipsticks - everything - are scented with a powdery-rose-violet fragrance with a decidedly retro vibe. 
L'Origan spun a whole generation of soft, powdery and sweet-warm florals, which is why it is hard to talk about it without thinking of so many other perfumes, and the list is long: l'Heure Bleue (Guerlain), l'Air du Temps (Nina Ricci), Parfum Sacré (Caron), FlowerbyKenzo (Kenzo), Si Lolita (Lolita Lempicka). Less close relatives that made a mark in perfume history are Samsara, Oscar de la Renta, Loulou and Poison.   
Top notes: Coriander, Orange, Pepper, Peach, Bergamot, Neroli
Heart notes: Carnation, Spices, Nutmeg, Orange blossom, Violet, Ylang-Ylang, Rose, Jasmine
Base notes: Benzoin, Coumarin, Incense, Sandalwood, Vanilla, Civet, Virginia Cedar, Musk
Ayala Sender