Ambers & Emeralds: Coty's Émeraude (1921)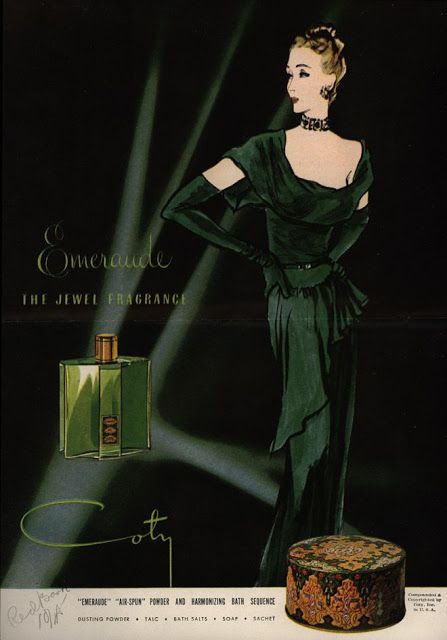 I would have given anything to be able to peek into François Coty's mind at the moment he created Émeraude. I imagine him leaning over this organ, and thinking to himself: "mmm, what could I pair with bergamot instead of oakmoss to make it truly shine... why, vanilla, of course!". 
Creatively speaking, the inspiration for Émeraude is the gemstone, minimalistically cut to show large surfaces of deep, smooth, shiny green that has a mesmerizing effect, like gazing into a deep lake in the forest. Emeralds seem to exude both elegance and mystery. The simple rectangular shape in which they're usually cut, which require very little additional adornment in the jewel, may make them seem austere, but this is not true. They have warmth, richness and depth of an evergreen forest, and are just as timeless. 
Likewise, the perfume when smelled afresh (as much as humanly possible exactly a hundred years after its conception, and smelling dozens of reiterations of the concept it laid out) is a perfect execution of that abstract concept. Émeraude is simultaneously bright and deep, with the bergamot-vanilla accord making it smell like something new, exciting, fresh yet luxurious. The bergamot alludes to an eau de cologne freshness, and I am also smelling noticeable lemon notes; perfectly balancing and uplifting the vanilla, which is not at all gourmand or confectionary, but rather smells sophisticated and mysterious. The reasons these are blended so seamlessly owes to a classic floral heart of jasmine and rose, and the vanilla is further smoothed out with sandalwood and patchouli that pull out its woody and animalic aspects, making it more perfumey than confectionary. There may also be a smidgeon of civet but in the most delectably subtle amounts. 
Speaking of the Eau de Cologne reference, I do believe that Émeraude and the ambreine accord were born out of a popular formula "Amber Water" — a sweet eau with vanilla, ambergris and tonka at its base (Poucher, 1959). I am yet to find out historically what came first, but it is very possible that this is the precursor for Opulent Ambery just as much as Honey Water is the precursor of the Spicy Opulents. 
Émeraude (launched in 1921) represents the moment in history when an abstract concept gave birth to a whole new genre of perfume: Opulent Ambery. The name is a bit misleading and confusing, as this family of fragrances is not reliant on the amber accord, but on something else entirely: the Ambreine accord.  
As usual with Coty at the height of the brand and the perfumer's career, the packaging, marketing and imagery in the advertisements is impeccable: the various designs of the bottles were usually rectangular, enclosing a green-hued jus, thus resembling a cut-emerald. The illustrated women consistently wore elegant emerald-green gowns and opera gloves, exuding elegance and confidence. The boxes and packaging for the myriads of ancillary products that ensued (Coty perhaps was the first to match up cosmetics and make up with perfume) — scented powders, bath oils and more — are covered in intricate art-nouveau pattern resembling a Persian rug, and in stark contrast to the simplicity of the bottle design. Was that an afterthought, to attract consumers who were smitten with Shalimar's exoticism? Or was that part of the design all along?
All in all, an array of highly coveted items that women would most likely purchase for themselves rather than wait for a suitor or a husband to lavish them with fragrance (well before Estee Lauder's Youth Dew bath oil stunt).  
Top notes: Lemon, Bergamot, Orange, Rosewood, Tarragon

Heart notes: Rose, Jasmine, Ylang Ylang
Base notes: Vanilla, Benzoin, Amber, Opoponax, Sandalwood, Patchouli, Civet
P.s. Émeraude and I met first in a thrift store, and it reminded me very much of Shalimar, which is what I was also prepared to smell as this was common knowledge among perfumistas. This was back in the day before the social media curse, when we spent hours deeply discussing fragrances on various fragrance fora. It saddens me that I speak of Coty's perfumes always in comparison to others who followed his footsteps. Émeraude is truly the first Opulent Ambery perfume, but it is Guerlain's famous Shalimar that took over the show in the long run, with its bombastic marketing and also the leading house in creating the "Orientalist" movement in perfumery. Future flangers of Shalimar actually smell more like Émeraude - Shalimar Eau Legere comes to mind.  
Ayala Sender