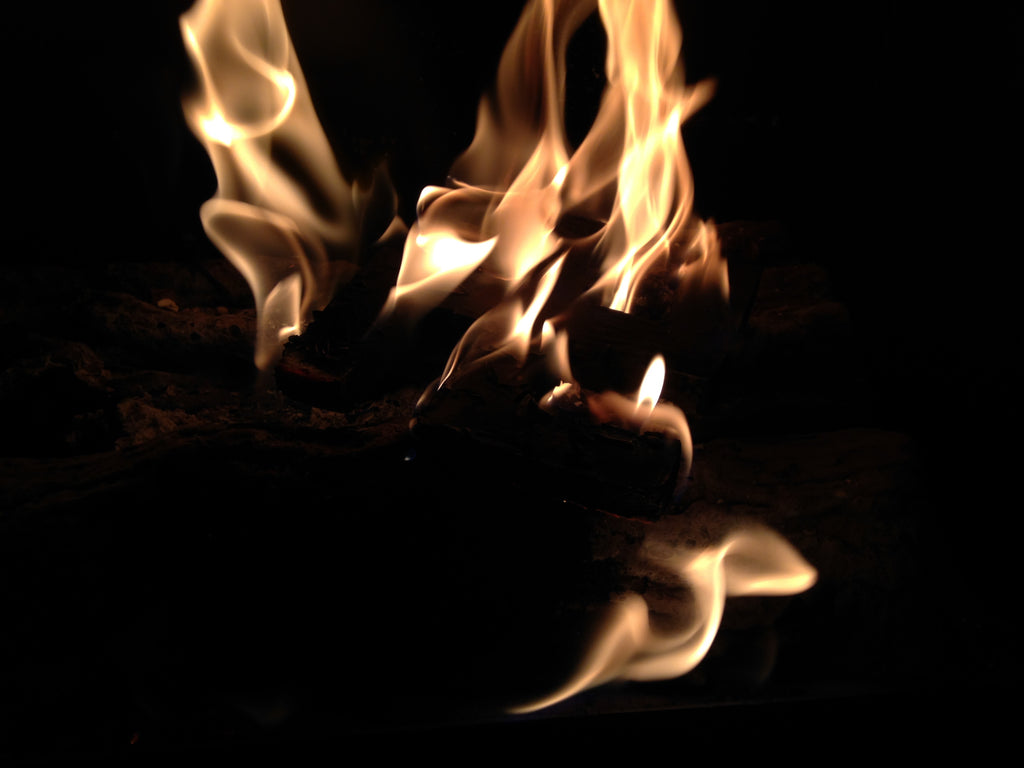 This summer I've started a new round of the seasonal subscription boxes. I've decided to dedicate each season to its corresponding element, and the first one is none other than fire!
Fire is a powerful element, symbolizing the flame within that motivates us to create, change and explore. Fire is what inspires curiosity, adventure, creativity, passion and desire.

Fire needs nurturing. Otherwise it will burn and consume and leave the person depleted both physically, emotionally, mentally  and spiritually. Therefore, it needs to be grounded in Earth too. Physically, in form of fuel or firewood, and a vessel to contain and limit its burning flame's range; as well as symbolically, be contained and focused, and be nourished and tended to within the ongoing ebb and flow of the other elements. 
For example: When we're washed by sadness (an emotion that's associated with the element of water), it is natural that we'll feel less motivated and and with less creative and sexual energy. Maybe a new fire will need to be set after such a wave. And that is okay, of course. 
In ancient medicinal practices, including Herbal Medicine of various traditions, and in Ayurveda, various plants, foods, spices and incense materials are used to balance and fine-tune an organism's system on all levels - physically, emotionally, mentally and spiritually. Substances that warm the body and create movement in it are used when a person is lacking the element of fire. For example: improve circulation of blood, to increase libido, and to aid digestion. The digestive tract itself is considered the furnace of the body, where all the heat is generated by digesting and breaking down nutrients in through series of chemical reactions. 
Summer is a time when energy runs high in a lot of plants. It is a symbol for the peak of life, where trees are fully dressed up in their green garb again, and all the fruits are at their ripest and juiciest. In terms of botanicals, perfumes and incense associated with the element of fire are many of the warm, heating spices, for example black pepper, cloves, cinnamon, chili and cayenne; Powerful incense materials such as dragon's blood, frankincense, benzoin and tobacco; Perfumes containing these as well flamboyant flowers like carnation, champaca and pelargonium. 

For the Summer Subscription Box, I've included a selection of fiery and summery concoctions:
- Matchbox decorated with Islamic patterns, and filled with two types of incense:
- Triple Goddess incense cones (with Dragon's Blood, White Copa and Black Copal)
- Sandstorm Among The Palm Trees (AKA Oasis Nerikoh) - Japanese-style, smoke-free kneaded incense, to use on an incense heater 
- Karo Karounde Crème Parfum, over a base of tonka butter and jasmine floral wax. Karo Karounde is an African flower with a creamy and green, gardenia-like scent (it also related to both gardenia and cacao). 
- Tomato & Nigella (Black Seed) Soap Bar, with Rhassoul red clay and activated charcoal; or - Dragon's Blood soap bar (with Rhassoul and pink clay as well). 
- Mélange Enfleurage 2021 from last summer - made from an infusion of plumeria,  quisqualis  and sampaquita flowers over coconut oil. 
- Ras El Hanout made in house by yours truly. 24 spices I carefully selected and finely ground, from the world's finest and most exotic ones imaginable, selected for their spicy and floral, complex aroma. May be used to add a spicy perfumery twist to both sweet and savoury dishes, i.e.: add a pinch of Raw El Hanout to Chocolate Truffles or Brownies; to pickled lemons, Couscous stews and any Tagine dishes, and my favourite summer staple - Mograbieh & Legume salad with Ras El Hanout & Pickled Lemons.
Ayala Sender