Pumpkin Pie, The Vegan Edition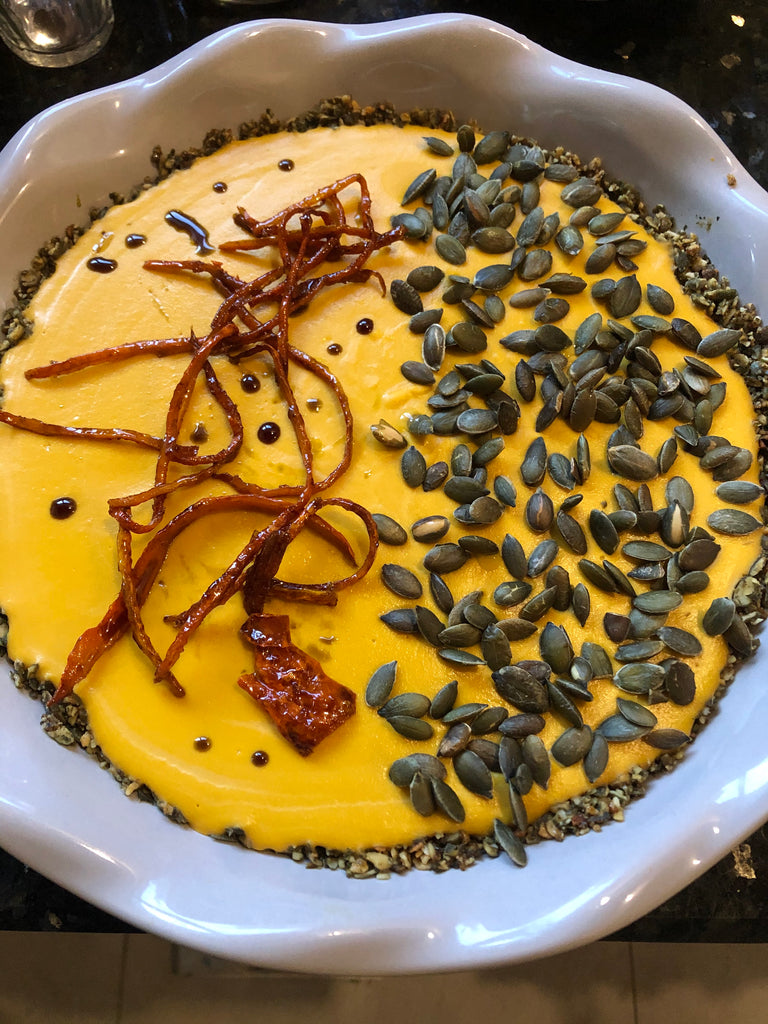 Pumpkin pie is one of my favourite desserts in the world - it brings such fond memories and is so delicious I could eat it for breakfast!
The inspiration for this vegan version for the beloved dessert is the famous, delicious and healthy vegan pumpkin pudding served at Shizenya restaurant in Vancouver, based on kabocha pumpkin and coconut cream, and topped with maple syrup. 
Unlike most pumpkin pies, this is not flavoured with any pumpkin spice, but is relying purely on the pumpkin's natural flavour. So make sure to use one that actually is flavourful to begin with (kabocha is aguably one of the best, but butternut squash could be used as well). And instead of boiling it down, either roast it or steam it for maximum flavour and minimum about of liquids.
For the crust, I chose to go with roasted pepitas (pumpkin seeds), which give an extra nutty flavour, but without any nuts or gluten. So it's truly a safe heaven for many common food allergies, and does not compromise flavour or texture. 
Crust:
1 cup toasted pumpkin seeds
2 Tbs coconut oil
1 Tbs pumpkin seed oil
1-2Tbs coconut or palm sugar
Pumpkin Custard Filling:
1 1/2 cups coconut cream or milk

 1 1/2

 cups (about 400 g) Kabocha pumpkin puree (or another flavourful pumpkin of your choice)

1/4 cup maple syrup (or more to taste)

1 teaspoon vanilla extract

pinch of salt

 

1 tablespoon virgin coconut oil (Optional)

 

1 3/4 teaspoon agar agar powder
Pumpkin Pie Decoration (Optional):

 A

 few whole, toasted pumpkin seeds

 P

umpkin peel, julienned 

 

Maple syrup
Pumpkin oil from toasted seeds (should be a dark green colour, with an amazing nutty flavour)
Salt
Preparation
Wash pumpkin, remove seeds and cut into cubes

Steam until a fork can easily go through

Mix the agar agar powder with 2-3 tablespoons of hot water in a small bowl. 

Toast the pumpkin seeds lightly over a pan, remove from heat and allow to cool

Prepare the crust, by mixing all the ingredients in a food processor (except set aside a few pumpkin seeds for decoration, if desired)

Press them onto a pie pan and place in the fridge

 

Place the cooked pumpkin in a pot and mash it with a potato masher, and add the bloomed agar-agar.
Mix the pumpkin and agar-agar until very smooth and cook on the stove on low heat for about 2-3 minutes until complete dissolved. Allow to chill slightly and place in a lender or food processor on high-speed to finish it off into a very smooth consistency

 P

our the filling onto the pie crust and allow to chill for a minimum of 4 hours or overnight.

Meanwhile, prepare the julienned pumpkin skin, by frying them in a pan with a little bit of pumpkin oil until crisp. You may add some salt if you wish 

To serve, drizzle some maple syrup, dot with pumpkin seed oil and decorate with a few whole pumpkin seeds and julienned pumpkin peel